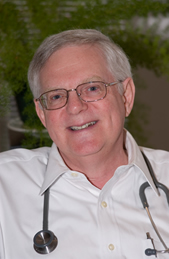 BIOGRAPHY:
Jerald Winakur, MD, FACP, CMD
Jerry Winakur graduated from the University of Pennsylvania School of Medicine in 1973, and completed his residency in Internal Medicine at the University of Texas Health Science Center at San Antonio (UTHSCSA) in 1976. He is Board Certified in Internal Medicine and has twice earned Board certification in Geriatric Medicine. He has practiced internal and geriatric medicine in San Antonio, Texas for thirty-six years, currently with Pasteur Medical Associates, the group he founded in 1990.

He is also a Certified Medical Director for long-term care institutions and is credentialed by the American Medical Directors Association. He serves on the Ethics Committee of this organization.

Dr. Winakur is a Clinical Professor of Medicine at the UTHSCSA and an Associate Faculty member at the Center for Medical Humanities and Ethics where he helps teach the core curriculum in ethics and professionalism. He is a Fellow of the American College of Physicians.

He and his wife, the lawyer-poet Lee Robinson, have co-taught their seminar-style course, "Being Human: Contemporary Issues in Science, Medicine and Society," to undergraduates at The University of Texas at San and Antonio and Trinity University. They currently teach "Medicine Through Literature," a course in the discipline of Narrative Medicine, to second and fourth year medical students at the UTHSCSA.

In 2005, Dr. Winakur's essay, "What Are We Going To Do With Dad?" appeared in Health Affairs and The Washington Post and was syndicated in newspapers across America. He has been interviewed on The Diane Rehm Show and Fresh Air with Terry Gross as well as other syndicated television and radio shows.

He authored a monthly column, "Meditations on Medicine," in LifeTimes, and currently writes a regular feature on aging and geriatric medicine in Caring for the Ages.
Dr. Winakur speaks frequently to lay audiences as well as health care professionals across the country on the ethical caregiving of our senior citizens. He has been an active participant in the health reform debate, writing on this topic as well as taking part in a panel discussion at the National Press Club on end-of life issues in September, 2009.
His book, Memory Lessons: A Doctor's Story, which he describes as a "memoir-manifesto," was published by Hyperion Books in January, 2009. It is about his life as a geriatrician, a commentary on aging and medical care in America, and the trials and joys of being the son of an old, old man.

Dr. Winakur also publishes and speaks on a multitude of topics including creative resilience in aging, the doctor-patient relationship, transitional care pitfalls in our health care system, "team care" in medical practice, "ageism" in American society, Alzheimer's disease, the family dynamic in aging, end-of-life issues, and alternative models of long term care. His yearly lecture to the first year medical student class at the UTHSCSA entitled, "Caring for the Patient," is always well-received.

A life-long birder, Dr. Winakur, in his spare time, writes poetry, fiction, and muses about the natural world as he goes about restoring the native tallgrass southern prairie on his small ranch in the Texas Hill Country.